Change Server Below For Watching Movies & Tv Serial Instead of Trailer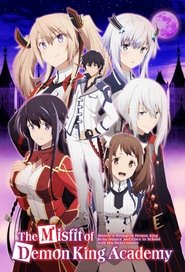 The Misfit of Demon King Academy
Anos Voldigord was a tyrannical Demon King that eradicated humans, spirits, and even the gods, but became bored of eternal warfare and reincarnated with dreams of a peaceful world. However, what awaited him in reincarnation after 2000 years were descendants who became too weak after being accustomed to peace, and all sorts of magic that deteriorated to the extreme. Anos enters Demon King Academy that gathers and educates those who are viewed as the reincarnation of the Demon King, but the academy could not see through his true powers and ends up branding him as a misfit.
Views: 135
Genre: Action & Adventure, Animation, Sci-Fi & Fantasy
Director: Shin Oonuma
Actors: Aki Toyosaki, Ami Koshimizu, Hieda Nene, Sayumi Watabe, Shinobu Matsumoto, Takuma Terashima, Tatsuhisa Suzuki, Tomori Kusunoki, Yūko Natsuyoshi
Studio: SILVER LINK.
TV Status: Ended
Duration: 24 min
Release: 2020